Reflecting on the year that was
Yes, you guessed it. If you are reading this you have made it through 2019. And boy did we do a lot! Don't worry, you won't forget a thing as we have packed it all neatly into the allspraypainted Magazine Issue #2. In printed form and digitally, so you will always be able to revisit our projects. And watch this space as we will be giving away free copies of the printed magazine in 2020.
we celebrated DIY culture to the fullest
Nothing was safe from our upcycling, spray painting and re-inventing ways. Whether it was bowls or wooden blocks or gradient clocks. Even the eggs weren't safe, but you have to admit they looked a lot cooler when we were done with them. We really enjoyed all of it!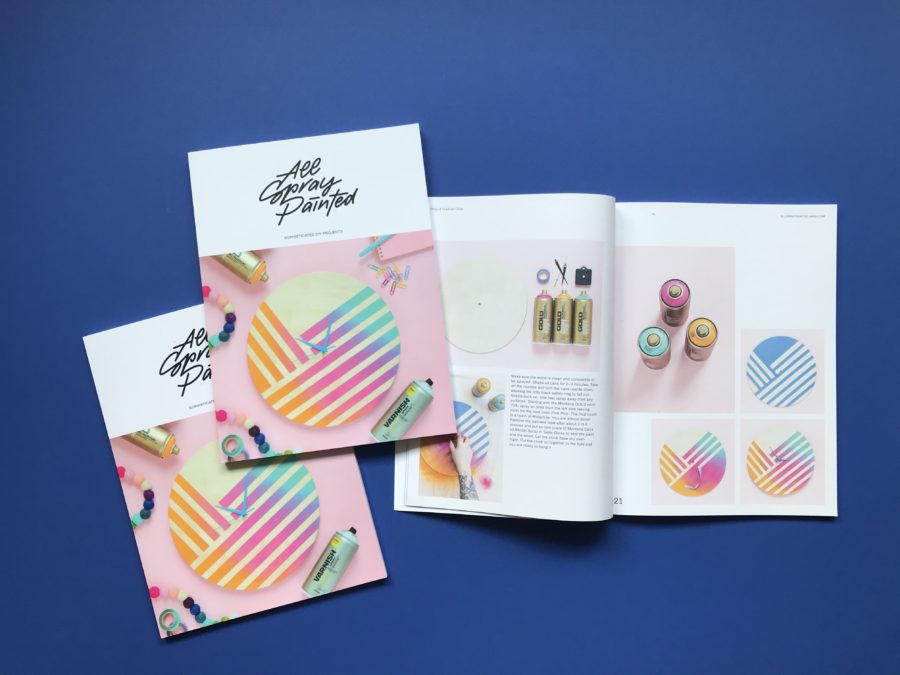 While we were sitting on our newly decorated stools, we couldn't help but admire our glittery homeware objects being romantically lit by the tea lights radiating colored light throughout the room. Or was it the amazing glass containers that we colored with glass paint that was catching our eye?
What's Inside? Check The Digital Version here:
We worked with wooden boxes. Not to mention the festive fun with pumpkins at Halloween and red glitter at Christmas. And if that wasn't enough, we even transformed our workspaces with effects and art. Nothing was boring, and definitely not after we were finished with it.
[su_icon_text color="#41444e" icon_color="#000000″ icon_size="34″]If you want to get featured with your own spray paint DIY tag us in the results via @allspraypainted or #allspraypainted[/su_icon_text]
We are gratefully thankful to you the readers that you chose to take this path with us. As we grow, so do you. And so does our love for spray paint. Especially the new Montana GLASS PAINT. We don't know where this journey will take us be we know sharing it is the best way to go. There's a lot coming, and we can't wait to show you what we are working on.
So stay tuned and keep crafting. We are excited to be creating in 2020 with you.