Eye catching stools for more than just sitting on
When most people think of stools they probably think of the seating in bars and cafe's. Or just to take a seat when you need a small break. But the classic stool can be a lot more than just a seat. With the selection of 214 colors in the Montana GOLD spray paint range and a couple of Montana Tech Sprays, we got inspired with an idea that would transfer our functional seating stools, into vibrant decor objects as well. Here's how we did it.
Materials Used
Wooden stools (Purchased or recycled)

Montana GOLD colors We used Lychee, Bazooka Joe, Strawberry, Easter Yellow, Yellow Cab and Golden Yellow)
Montana VARNISH in Gloss, Semi Gloss or Matte
Masking tape
Gloves

Mask

Drop sheet

Sanding paper (if required)
How it was done
Once we got all our materials ready and laid our drop sheet down in the painting space, we started by taping off the last 15cm – 20cm of each stool's feet. These areas we wanted to stay clean and show natural wood when we removed the tape. If you wanted to get tricky, you could mask off other areas (or shapes) which would also show natural wood in amongst the colors when finished.
Our stools were new and clean, but if you are using existing stools you've found or recycled, give them a sanding to remove any existing paints or coatings. Ensure they are clean and dust free. Taking the last sip of our freshly squeezed juice, it was time to get serious and put on our gloves and mask in readiness to paint. We turned all the cans upside down and took the nozzles off allowing the black safety ring to fall out. We shook the cans vigorously for 2-3 minutes so that we could hear all the mixing balls moving freely while mixing the paint perfectly. Then it was SHOW TIME!
We recommend using the Montana UNIVERSAL PRIMER to pre-coat the wood. This will ensure the best color vibrancy for the later color application, but it also make sure the paint sticks optimally. Once this is applied and dry, we then chose to go with two loose color combinations. Pink and yellow were or rough idea, but to be exact we used Lychee, Bazooka Joe, Strawberry, Easter Yellow, Yellow Cab and Golden Yellow. You could use any combination you think is stunning. When there are 214 Montana GOLD colors to work with, there is a lot of "stunning" to choose from. Starting at the base of the legs, we first applied our darker colors, using broad sweeping strokes that were at least 15cm – 20cm away from the stools. This distance prevented drips and also gave us a little over spray so the blending of each color was easy.
Second coat the lighter shade and final color the lightest. Of course you can switch it up and reverse the order or intermix completely different colors if you want. (Remember you are the boss!). We painted on a warm day and left about 10 minutes between colors. Don't forget to paint the insides and underneath of the stools as well! Once all the colors were applied, we removed the painters tape from the feet of the stools. Try tearing slowly away from color to achieve the cleanest lines and don't wait too long to do this.
The paint needs to dry overnight before we could do the last step of varnishing. The next afternoon we brought our stools to life and gave them a coat of protection with Montana VARNISH sprays. You have the choice of Gloss, Semi Gloss or Matte.
These sprays are great as they give the final finish you want, it makes the surface durable for cleaning, they help protect against dents and scratches occurring and they add UV protection incase your stools will be exposed to sunlight. We chose Montana VARNISH Gloss and the result was nothing short of WOW! as the colors seemed even more vibrant and the exposed wooden feet looked amazing in contrast to the colors. Leave them to dry over night before putting them into service.
This is an easy to intermediate level project depending on how many colors you want to fade and how much masking you want to do. The less colors and masking, the easier. But don't be afraid, it's only paint and you can always fix anything you are not happy with. You will only need 20-30 minutes of actual work time but make sure you allow complete drying time for the colors before applying the varnish. Then you just need to decide where these fab stools will go? And if you'll sit on them or use them to decorate instead? Maybe time for another juice to think about that one…..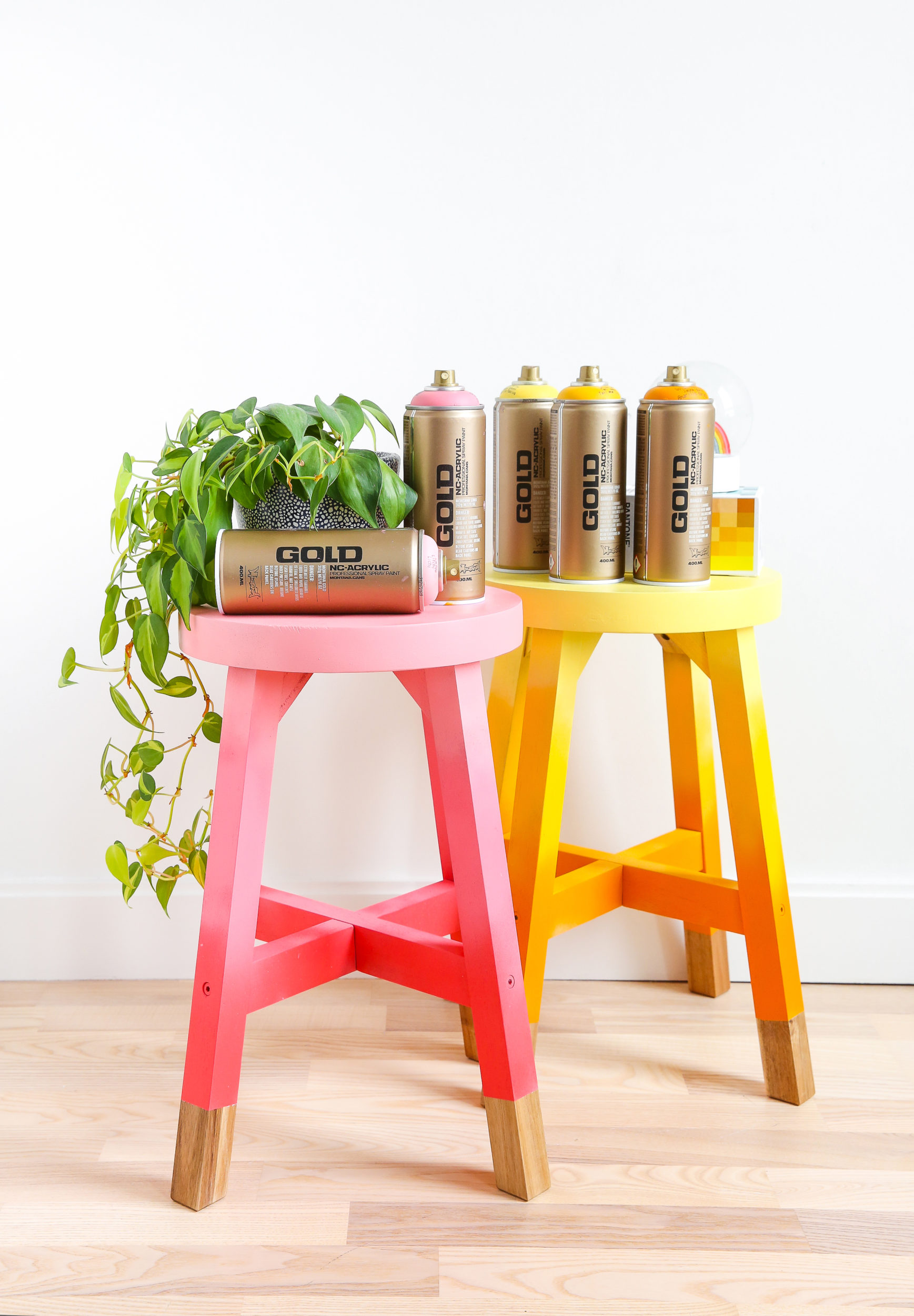 Good Luck and Happy Crafting!