Dreaming of a white Christmas
The house is clean, the gifts are made (or at worst bought), and the weather is cold outside. It's obvious to see that Christmas is coming. And along with the festive season comes the mad rush to decorate, put up the tree, and be ready. However, we also often fall into that trap of stressing out about what type of decorations to use each year. The stores all have the same things as last year, and the truth is, we all want something unique. We know just how you feel, which is why we put on our thinking caps for you and came up with some simple elements for your home that can be upcycled or created without too much fuss. But of course, with a lot of fun. This year, we are going to help you have some Frosted White Christmas Decor, whatever the weather outside.
BEFORE
Our DIY White Frosted Christmas is the ideal way to get you into the mood and fire up your Christmas spirit. Rather than go overboard with too much random color that will most likely date, we are going to stick with timeless, soul recharging, and light-filled white. Which in case you forget, is actually the most luminous color to reflect light in your home.
The spring cleaning at the start of the year did two good things other than clean things up. It helped us find some cool vases and ornaments which we will now use, and it made us organize our Christmas decorations, so we actually know where they are now. It is amazing what finds its way to the back of your cupboards. But if you don't have the luck that we did, keep your eyes peeled when you are next at a second-hand shop, or visit your local craft store, or big box hardware store where you will find everything you need. What you are looking for is neutral colored glass containers, vases, or ornaments in the shapes of your desire.
In the Christmas aisles, you're bound to find an array of baubles in the shapes and styles you want. Take all your goodies home to the studio (or the spare room/garage/balcony, if a 'studio' doesn't exist where you live), and make sure they are all clean, dry, and free of dust and oils. For the spraying aspect of our White Frosted Christmas, we used Montana GLASS PAINT white, Montana GOLD in the color Shock White, Montana UNIVERSAL PRIMER (you guessed it, it's white), and Montana GLITTER. Or you can go for Montana HOLOGRAM if you want more bling.
AFTER
The beauty of making White Frosted Christmas decor is that it is easy, and the combinations of the products used are flexible. You have the choice to apply the Montana GLASS PAINT white by itself, or over Montana GOLD Shock White. You can apply the Montana GOLD Shock White by itself or coat it with Montana GLASS PAINT or Montana GLITTER spray afterward. You can apply the Montana GLITTER spray over Montana GOLD Shock White, or the Montana UNIVERSAL PRIMER.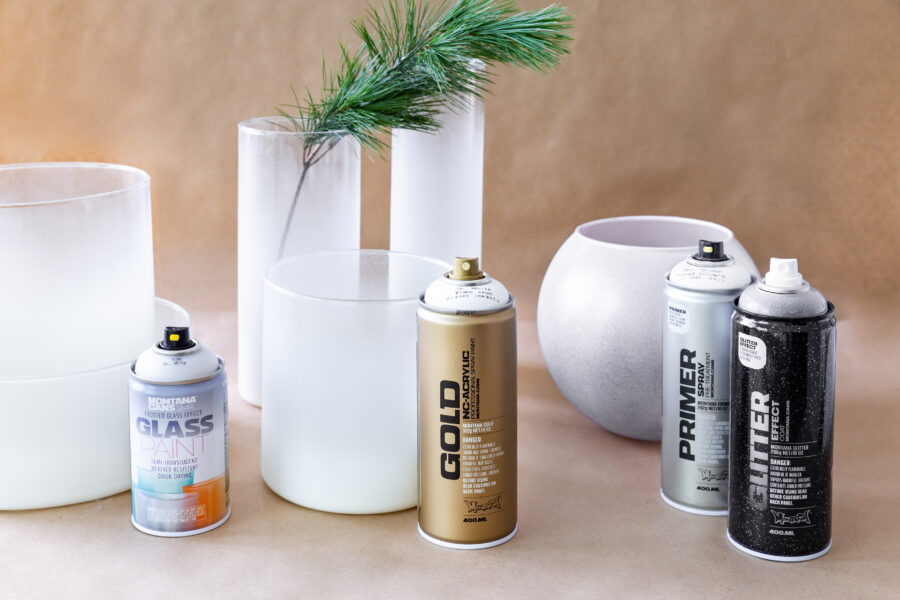 After having put on our gloves and mask, prepared a drop sheet for our overspray, shaken our cans vigorously for 2-3 minutes, and removed the black safety ring from under the can's nozzle (where applicable), we simply turned all our vases and ornaments upside-down and placed them on our drop sheet. Depending on the product combination you decide to use first, we applied either Shock White, UNIVERSAL Primer, or the GLASS PAINT to the base of the object we were painting, and then faded away as we worked down the object.
For the clear glass vases, the idea being that natural light could still pass through the top of them when turned the right way up. When dry, we then applied the GLASS PAINT over the Shock White, and the GLITTER Spray over the Shock White or UNIVERSAL Primer. And in the case where we wanted to use glass paint alone, the first coat meant we were already done.
Then we let it all dry overnight to ensure the paint could cure and be as durable as possible before we handled it. With very little effort, we had easily created some impressive decor. The shapes and forms made it easy for us to figure out what we wanted to put into each object. We stuck with fresh green foliage for our longer vases.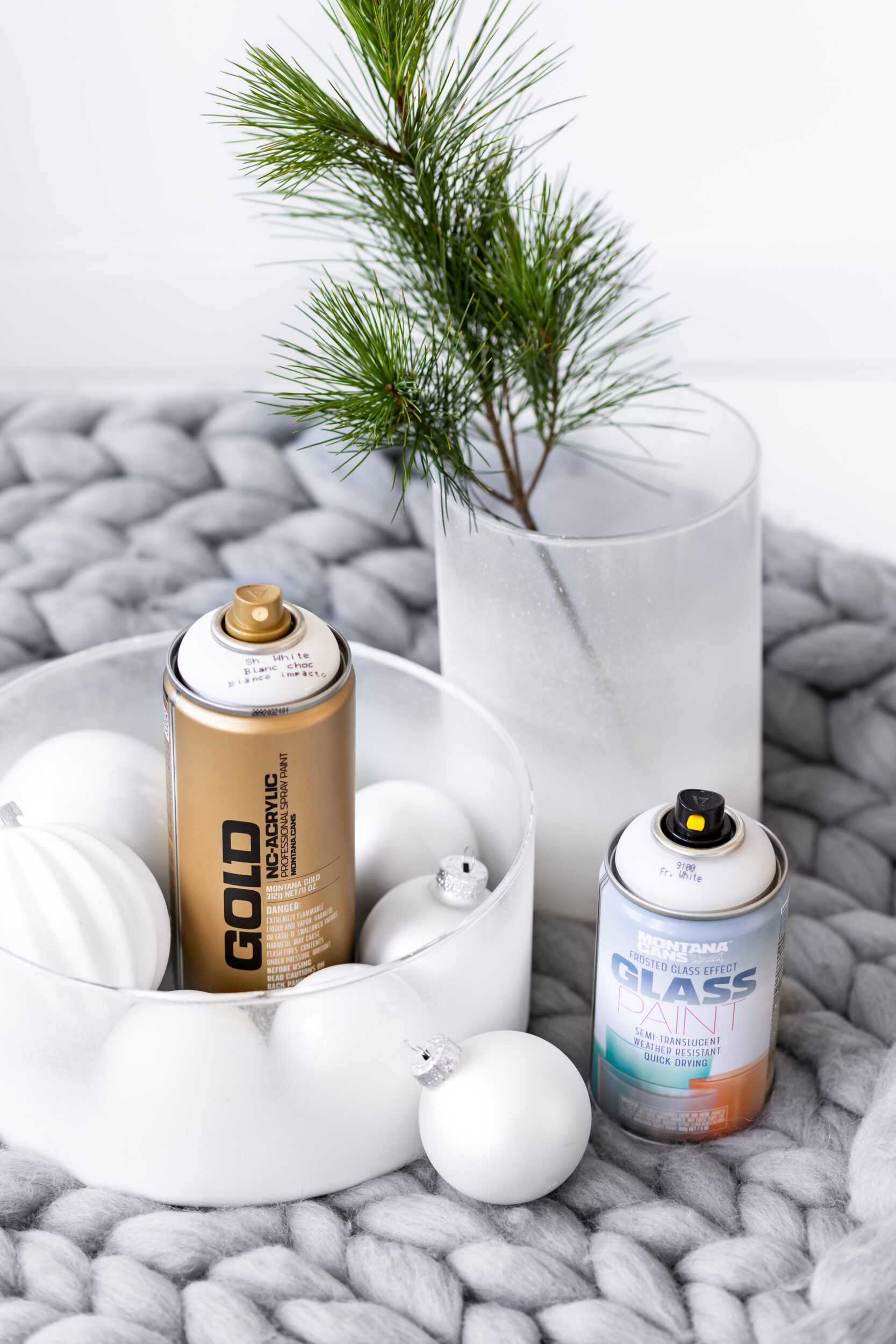 A beautiful natural aspect, that brings a touch of life in your home at a time when it is often grey and dreary outside. For our flatter ornaments, our white baubles seemed to want to jump in there themselves. And if your upcycling baubles that are colored that you want to make white, have no fear. With your leftover Montana GOLD Shock White or UNIVERSAL Primer, you can personalize them too using the skills you already have.
You are done. At least for this part of your pre-Christmas preparations. It was easy, took less only 15 to 30 minutes, and looks stunning. Now to figure out what to fill the fridge with? Well done and Merry Christmas from all the team at ALLSPRAYPAINTED, enjoy your Frosted White Christmas Decor. Happy crafting!