Practical creativity on wheels
Nightstands have the added value that you don't just get to use the benefits out of them at night. But somehow, when the sun has set, you are laying in bed and there is a glass of something tasty on the top of them, the necessities like the remote and your phone are in the middle, and some emergency chocolate at the bottom, it all seems a little more appropriate. At least more so than when you leave the house late for work in the morning and don't even notice it is there. With our Marble Moveable Nightstand project, not noticing it will be a thing of the past. Sound intriguing? Read on…
Materials Used
Moveable nightstand or trolley (ours was pre-painted metal)
How we did it
This might sound familiar, but the hardest part is locating the moveable nightstand that you like. If you are trying to find a new one, maybe also use the word trolley in your searches to get various possibilities for the project. Ours was a RASKOG trolley from IKEA, freshly painted in white. However, the techniques we will share with you can be applied to most variations of nightstands or trollies. Make sure your trolley is clean, dry, and free of dust, dirt, and oils. If it is made of unprimed metal that has not been painted before, we recommend sanding it down lightly before cleaning it and coating it with Montana Metal PRIMER 400ml. Remember the simple steps when using any Montana Cans, can. Shake well for 2-3 minutes so you can hear the mixing balls moving freely, if applicable remove the nozzle and turn the can upside to allow the safety ring to fall out, then reapply the nozzle and test spray away from any objects. As our trolley was already painted white, all we had to do was prepare it for painting.
A portion of the trolley shelves will be painted in your three tones of Montana GOLD 400ml colors. The rest will be covered in Montana MARBLE Effect Spray 400ml black. Before you prepare your trolley for painting, you need to decide if you want to first apply the MARBLE Effect to the whole piece, or if you want to mask off the areas where the tonal color will go to avoid having the texture of the MARBLE Effect paint underneath the color on these sections. We covered the whole nightstand with the Montana MARBLE Effect spray first, and to do this we sprayed the pre-shaken MARBLE black can from a distance of at least 20cm from the trolley's surface so that the strands of paint could land organically on the surface of the metal.
If you apply it from further away the strands of paint have more time to separate in the air before landing on the object. Test this out of some scrap cardboard in your preprepared painting area to help you find the application distance you like most. If you prefer to cover the areas you don't want the texture of the MARBLE Effect spray on, then cut some of your plastic drop sheet material to size and attach it to the surfaces you want to protect with masking tape. Once the MARBLE Effect spray is applied, remove your tape and plastic and allow it to dry. Ideally overnight so that the paint can cure.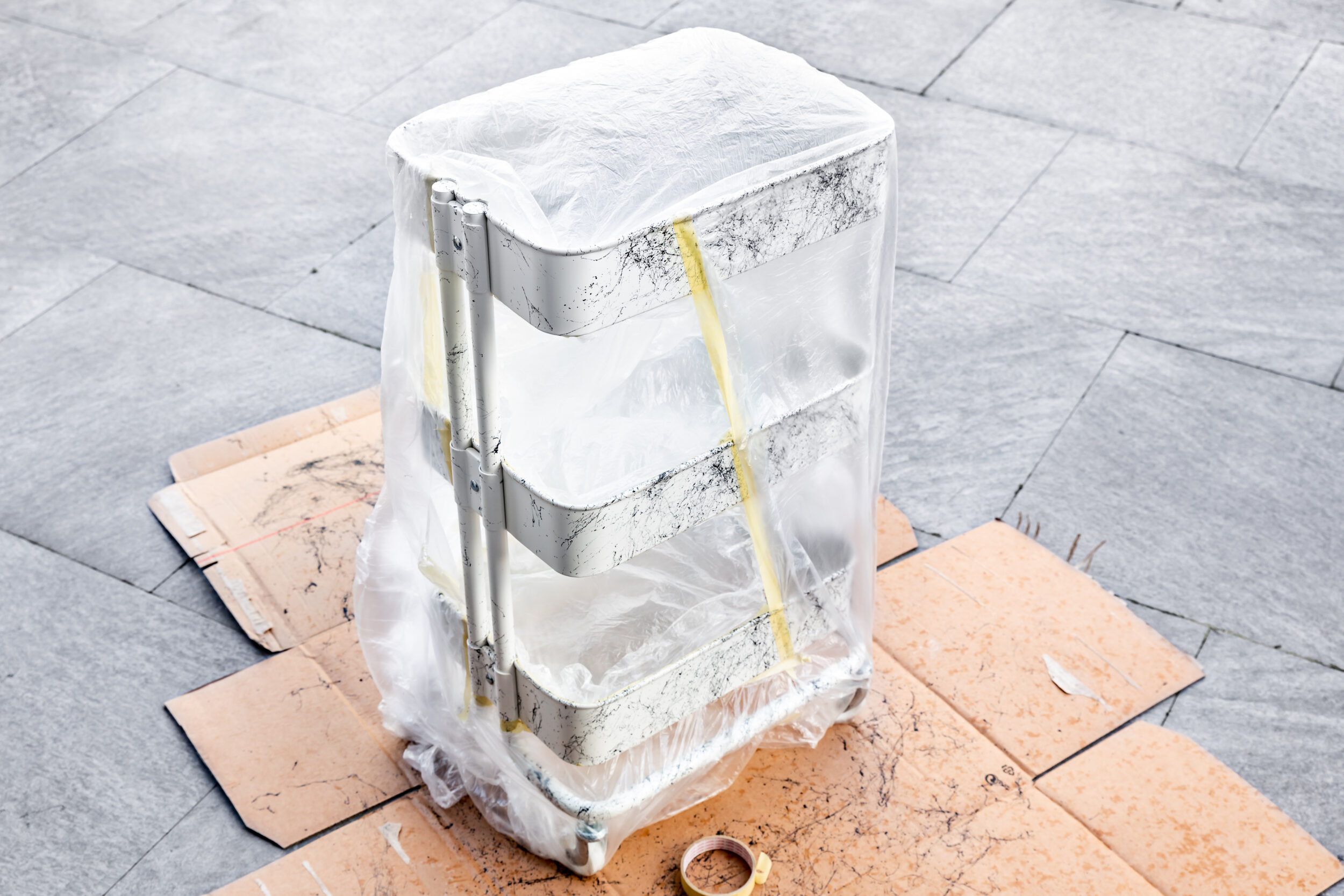 Now your moveable nightstand has a fantastic new marble look, but it is still a few small steps away from perfection. Once again, using your plastic drop sheet material and masking tape, cover the whole of your trolley to prevent it from being colored. Leaving the bottom section exposed that will be painted. Ensure that the masking tape is applied cleanly and evenly so that clean lines are left once it is removed. Starting with the Montana GOLD 400ml Spray color tone that is lightest or darkest, paint the exposed area of the nightstand.
Allow to dry and repeat this process applying the tones one section at a time going from dark to light, or light to dark. If you feel confident in your ability, you can cover the trolley leaving the complete area exposed that you want to apply color. Then, apply the colors in three sections as before, but start at the top section and fade down from one color into the other without masking them all individually. This is faster and can allow you to fade the colors rather than having sharp shifts of color. Then remove the plastic and masking tape carefully as you did previously and allow it to dry overnight.
You are done and your practical white trolley now looks like a handmade designer nightstand that still does everything you need it to. If a little added protection is on your mind, turn to a Montana VARNISH 400ml Spray in Gloss, Semi-Gloss, or Matt and apply the finish of your choice in thin even coats like always. It looks amazing!
This project has something for all skill levels. If you want simple, just apply your Montana MARBLE Effect and sit back and enjoy. If you want intermediate, pick three tones of your favorite Montana GOLD color and apply them to the individually masked off sections.
And if you want to get experienced, try fading your chosen three Montana GOLD tones to a single portion of the trolley that you have left exposed as one area. For best results allow each step to dry overnight. The actual work time however if you don't have to prime your nightstand is no more than 20-30 minutes. Now, where was that remote?
Top work and Happy Crafting!