Even more marble possibilities
The Montana MARBLE Effect 400ml color range has long found a place in the list of must-have materials for our DIY tool kit. Its wide range of application possibilities has added flair and creativity to the most surprising array of projects. MARBLE Effect has found its way into our workspaces, onto our pinboards, on our clocks, onto our Christmas cards, Easter decorations, and even our bathrooms. And that are just some of the projects MARBLE Effect spray has enhanced and uplifted. With the release of the new colors Marble Copper, Marble Yellow, and Marble Grey, it was inevitable that we would shake up these newcomers for a project that would highlight their introduction into the color range. And when we found some beautiful small wooden tables, the stars aligned and the Marble Effect Table project was born. Here is what we did:
Materials used
Before
The key to this project aside from the new
Montana MARBLE Effect
colors is wooden tables. No doubt you can find the table or tables of your choice at home decor stores, furniture stores, second-hand stores, or yard sales. New or used, all you need are tables that you adore, with wooden tops. We were lucky enough to find a small set of three that progressed in size which made the ideal surfaces to try out the cool new
MARBLE Effect colors
.
The first thing to establish is if your tabletops are removable or fixed. If removable, make it happen to ensure the easiest access to the top. If fixed, cover the base of your table with scrap paper or a plastic bag and affix with masking tape under your tabletop(s) in a nonvisible area. If your tables do not have white tops as ours did, it isn't hard to change them so they do. With some sandpaper, remove the surface coating (if one exists), or sand down the wood lightly so you have a neutral surface to start with. Using either
Montana UNIVERSAL Primer
or
Montana GOLD
in the color Shock White, apply thin even coats to your tabletop as desired. If required, repeat this process and allow it to dry for at least an hour. That's the hardest part done!
Once your tabletops have dried and the bases are either detached or protected, it is time to add some new
MARBLE Effect
color. To let the colors shine and breathe, our goal was to apply one color over the white surface of each table. One table in Marble Copper, one in Marble Yellow, and one table in Marble Grey. You may decide to mix the colors, or even use another colorway by using a different surface color other than white.
At a distance of 15cm to 25cm away from each tabletop, apply your
MARBLE Effect
color in slow even strokes. The further away from the tabletop, you apply it, the more time the paint strands will have to separate in the air to land on the tabletop organically like real marble. The closer you apply it, the more like a spider's web it will appear. If you think it needs it, add a squirt here and there in the areas that lack coverage. And if you do not feel confident to start with, why not try a little on some scrap cardboard to get a feel for the effect you want and the distance that effect requires.
Having left your tables to dry overnight, the final touch before reapplying your tabletops or taking off the paper/plastic coverings from your base(s) is to varnish them. Choosing the Montana VARNISH 400ml spray finish of your choice, apply in slow even strokes at a distance of about 15cm. Montana Gloss, Semi-Gloss, or Matt
VARNISH
will protect the table's surface making it more resistant to scratches, UV exposure, and dints while giving it the look you want in the finish you have chosen. We went for the Gloss finish for that added touch of shine and prestige. Allow drying overnight before reapplying your tabletops to their bases.
Of course, you remembered the golden rules when using spray paint which are; to ensure all surfaces were clean and free of dust and oils, to shake well for 2-3 minutes, remove the nozzle and turn the can upside-down to allow the black safety ring to fall out (where applicable), and then reapply the nozzle and trigger to test the can away from surfaces.
After
So let's review the situation. The tables are all dry, the tops have been reapplied where applicable or the plastic and paper covering protecting the bases of the tables where the tops were fixed has been removed. Everything has been allowed to dry and cure for more than 24 hours and the tables are now identifiable as the
MARBLE Effect
Copper, Yellow, and Grey ones.
Oh, and not forgetting they look great! Now you need to figure out where to put them and how they will be used. But until then, don't hesitate to just look at them for a little while and appreciate what you have achieved.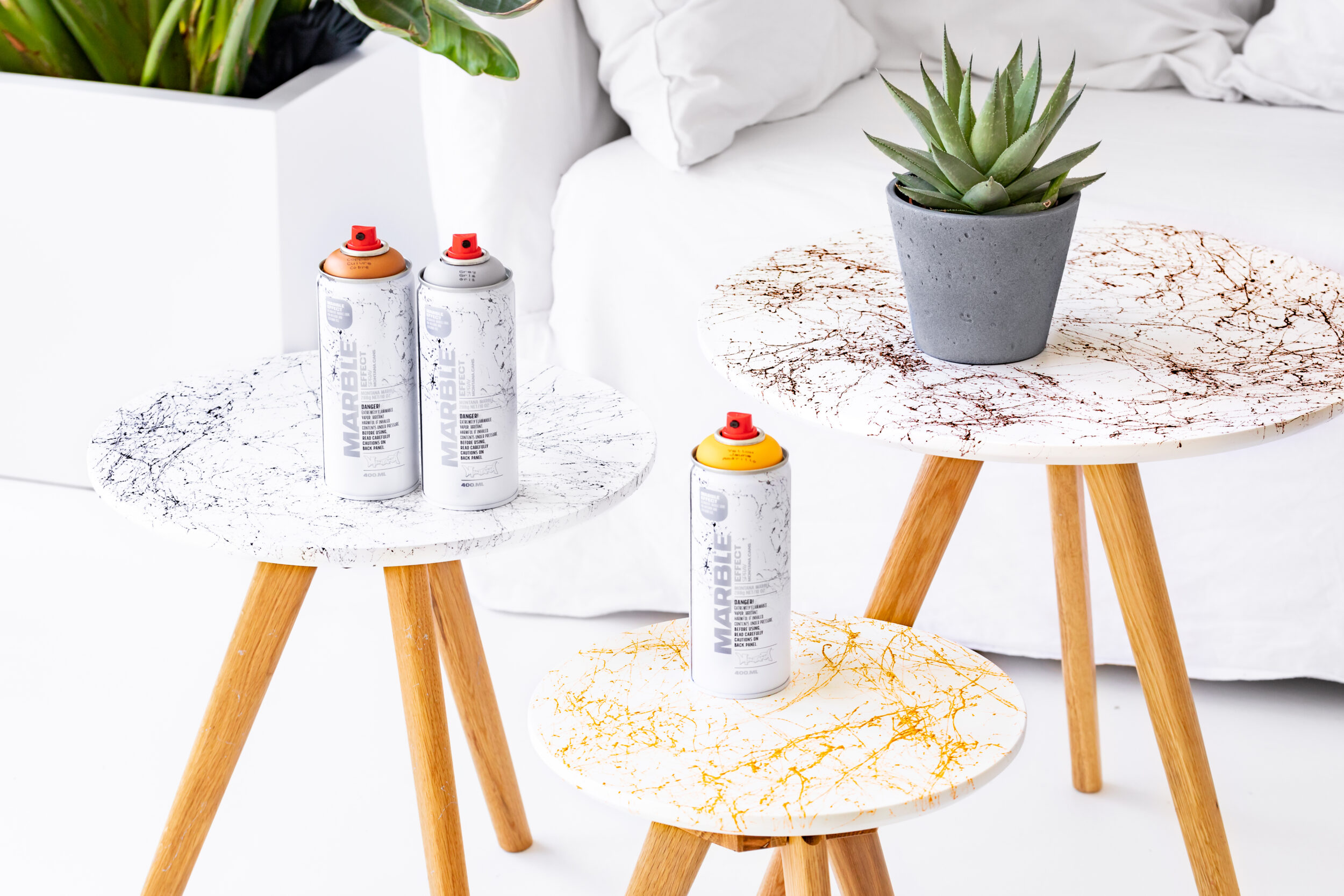 This project is no more than 30-60 minutes of actual work time depending on how big your tabletops are if they need to be primed or removed, and how many tables you chose to paint. There is no getting this wrong so creators of any skill level can take this project, or practice applying the
MARBLE Effect spray
onto some scrap cardboard to build confidence before touching the table(s). The less is more approach has achieved a finish that looks a lot more than less!
Well done and Happy Crafting!