Taking a seat in style
"Here, take a seat".. how often have you been invited to a party, gotten all dressed up and then heard this sentence, only to think that the seats you're being offered to sit on would make a cool DIY project? For us, this has happened often. That's why we decided to take some action and freshen up our barstools to look like the sorts of seats you would be offered in a designer bar. Before you go fill up your cocktail glass or espresso cup, read on and learn how you too can make your own Gradient bar stools.
BEFORE
You may already have bar stools at home which means you are one step ahead. If not that is your first goal. Source some stools that you like and that most of all suit your tastes. Giving a coat of paint to a design you don't like to begin with will not change their designs, just make them a little less ugly. Yard sales, second-hand shops, homeware stores and of course Ikea, have plenty of options for you to choose from so you can find what you like without needing a big budget.
We had three different types of stools. We had two completely metal stools, and two different stools both with metal legs and wooden tops to sit on. We prepared them all by sanding down the wooden tops to remove the lacquer on the surface of the wood, and lightly sanding all the metal parts to create a surface ready to paint. Once the stools were all sanded and wiped free of dust, we were ready to start.
For the stools with the wooden tops, we chose to mask off the wooden seats first so we could prime and paint the legs. The legs are a little trickier than the seats and this way we minimize the chance of spray dust landing on our seat tops. Using the Montana Metal PRIMER, we covered all the metal parts with a thin even coat. Not only does this give an optimal surface for our paint to stick to, but it also helps protect against the onset of rust. You can choose to apply a second coat of Metal PRIMER if you think you didn't quite get into all the corners and angles.
This process was the same for the metal stools as well, but in this case, you don't have to mask anything off. Just apply the PRIMER evenly to coat each stool. Once dry, give them a light sand again with fine sandpaper or even steel wool. Wipe down your stools with a damp cloth free of dust and you are ready to apply color.
For the wooden top stools, we couldn't go past Montana METALLIC Effect Spray in the color Gold. We chose this as it had a timeless look and the Montana METALLIC Effect Sprays are the most durable hard wearing metallic colors to use that don't rub off. Oh, and did we mention they look awesome too. Again, light even coat and apply again if you think the first coat didn't get in all the corners. Leave these to dry while you're painting the metal stools.
For the metal stools, we chose Montana GOLD in variations of the colors Welsh, Malachite and Malachite light. But you can choose whichever colorway you desire. On one stool we applied Welsh on the upper part and Malachite Light on the legs, on the other we alternated it, fading the colors smoothly from one to the other. While these were drying, we went back to our wooden top stools and masked off our now dry legs. Using the Montana GOLD Malachite for one top and the Welsh for another, we then proceeded to paint the tops.
AFTER
Well, it's fair to say that our once bland bar stools are now eye-catching pieces of usable art. Or at the very least DIY designer furniture. The colors look great and using Malachite, Malachite Light and Welsh meant that we could tie in all the Gradient Bar Stools into the appearance of one collection as opposed to it looking like it was scratched together.
The gold on the stools with metallic legs added a regal touch. The fact that we shook all the cans for 2-3 minutes before use meant that the brightness of the color and the finish of the application is beautiful. If you wanted to take this to the next level, you could also consider applying a coat of Montana VARNISH Spray once all the paint had dried overnight. This could enable you to tailor the finish to Gloss or Semi-Gloss if you wanted to. But if you are happy as they are, then you're done.
The Gradient Bar Stool project is not difficult but can vary in complications depending on the stools you choose. For the simplest route, find stools that are either all metal or all wood with simple designs. Wooden stools would not need metal priming and could be painted without needing to mask anything off. However, as you can see, the effort does pay off if you have a combination of wood and metal stools.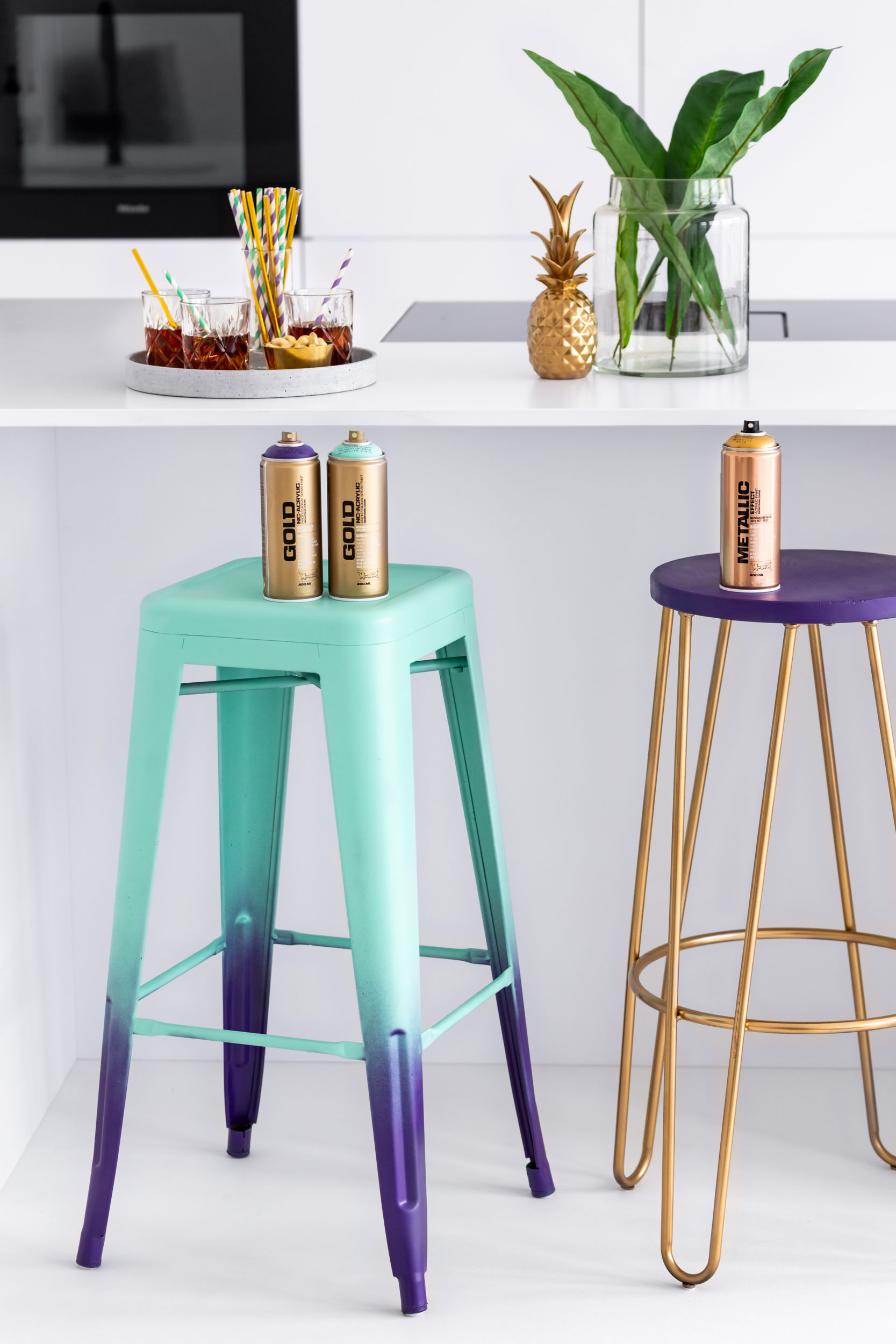 Your working time will vary between 30 mins to an hour depending on the amount of sanding required and how intricate your spray work needs to be. Allow enough time to dry between each step so each coat of paint has a chance to settle. And don't forget you can't really do anything wrong. If you are not happy with your applied coats or colors, let them dry, give them a light sand and try another. You can do it! Have fun and happy crafting!