Make. Sleep. Repeat.
In the quaint little town of Heddesheim Germany, in the region of Baden-Württemberg, there is a whole lot more going on than one might think. Sure, the lake down the road has always attracted people from far and wide to cool off for a summer swim. But somewhere, hidden away in an industrial estate, there is also a workshop making, sleeping, and repeating. A workshop that is being watched by over 278,000 YOUTUBE followers from around the globe! And who are they watching? Hassan Abu-Izmero, or as he is affectionately known on all his social media platforms, HABU. Read on to see all we learned which allspraypainted meets Hassan Abu-Izmero.
HABU has long identified himself as a maker, artist, and craftsman. But he does a pretty good job of being a prolific YOUTUBE content creator as well. His career which started as a metalworker and welder would probably have been enough to keep him busy. But the drive to create and explore other materials, which had been inside him since he was a kid, was too much to just go down one path. A learning curve that got him filming his early creations and loading them up to YOUTUBE as a hobby. Or at least as a hobby in the beginning. At some point, he set himself the goal to make, document, and upload one project per week. As easy as Make. Sleep. Repeat. A motto that has become his slogan that reflects and defines his "just do it" attitude.
After one year of creating and documenting, he got so good at what he was doing that he was able to leave his job and do his projects full time. HABU Official was born and the world was just about to become a more creative DIY place. HABU, who seems to have no limits in creating his projects, has made everything from e-bikes to chicken coops, camper conversions to knives, furniture, tables, and beyond. Using any material he can get his hands on from metal to wood, leather to plastics, resins to all things recycled. And of course, Montana Cans aerosol products which he became accustomed to in his experimentations when he was younger.
As well as creating an amazing shelf project right before our eyes, we also took some of his precious time out to have a chat with the man himself to try and figure out what makes his creative mind tick. Here is what he had to say:
Interview with Hassan Abu-Izmero aka HABU
allspraypainted: How did your career start? Was there a moment when you knew that handcraft work is your preferred way of working?
HABU: It all started as a hobby and that's how the passion for it developed. Crafting should be the preferred way of working for all of us because EVERYTHING is a form of craft.
allspraypainted: Where do you find most of your inspiration?
HABU: I find most of my inspiration in nature, where my mind is free, far away from any technology.
allspraypainted: What role do craft materials play in your work?
HABU: For me, all materials play a big role, as they are the core of my work. I am particularly drawn to experimenting with different or new materials!
allspraypainted: What do you think about the concept of upcycling?
HABU: Upcycling or recycling is extremely important and will inevitably become a bigger and bigger issue. In this regard, it is even nicer to be able to inspire people with my projects.
allspraypainted: Part of your concept for "allspraypainted Meets" was a shelf that you built and painted yourself. What is your design process when you undertake your projects, and which part of the process is your favorite?
HABU: The favorite part of most projects for me is the planning. That's because I don't really do any of it! Or at least, very rarely. I like to jump straight into the deep end as it is always very refreshing for me. I'm lucky that I almost always have a picture in my mind of how my project will look when it's finished. And it is this image in my mind that I then simply work towards. Even if I don't know what step 3 will be, I always know what the first step is. This then leads to the second step, and so on. I see it as a no-brainer, so to speak.
allspraypainted: How would you rate the role of YOUTUBE in the context of your work?
HABU: Since YOUTUBE is my main mouthpiece to the public, it plays a large role in what I do. Of course, everything would always work out without it, but this way I think I reach the most people.
allspraypainted: Which color or effect in the Montana Cans aerosol ranges do you like the most?
HABU: My favorite colors are the Montana GOLD colors Shock Black and Shock Red, and my favorite effect is the Montana CRACKLE Effect can, in the color Traffic Black.
allspraypainted: How much of a balance is there between the proportions of the digital and analog aspects of your work?
HABU: As a content creator, it is quite clear that 50% of my work takes place in the workshop and the remaining 50% is digital. Of that 50% digital work, video and image editing are the core.
allspraypainted: What are your plans for 2022 if you have any?
HABU: My plans for 2022 are as simple and as clear as always; Just do it!
My uncle used to say: Expect nothing, and live frugally on surprises!
allspraypainted: How long have you been working with spray paint?
HABU: Montana Cans have accompanied me since my childhood. I too have left my tags and some graffiti here and there. Therefore, I was always aware of the quality of Montana Cans products compared to other paints. "Can spray on anything!" has always been the motto for me!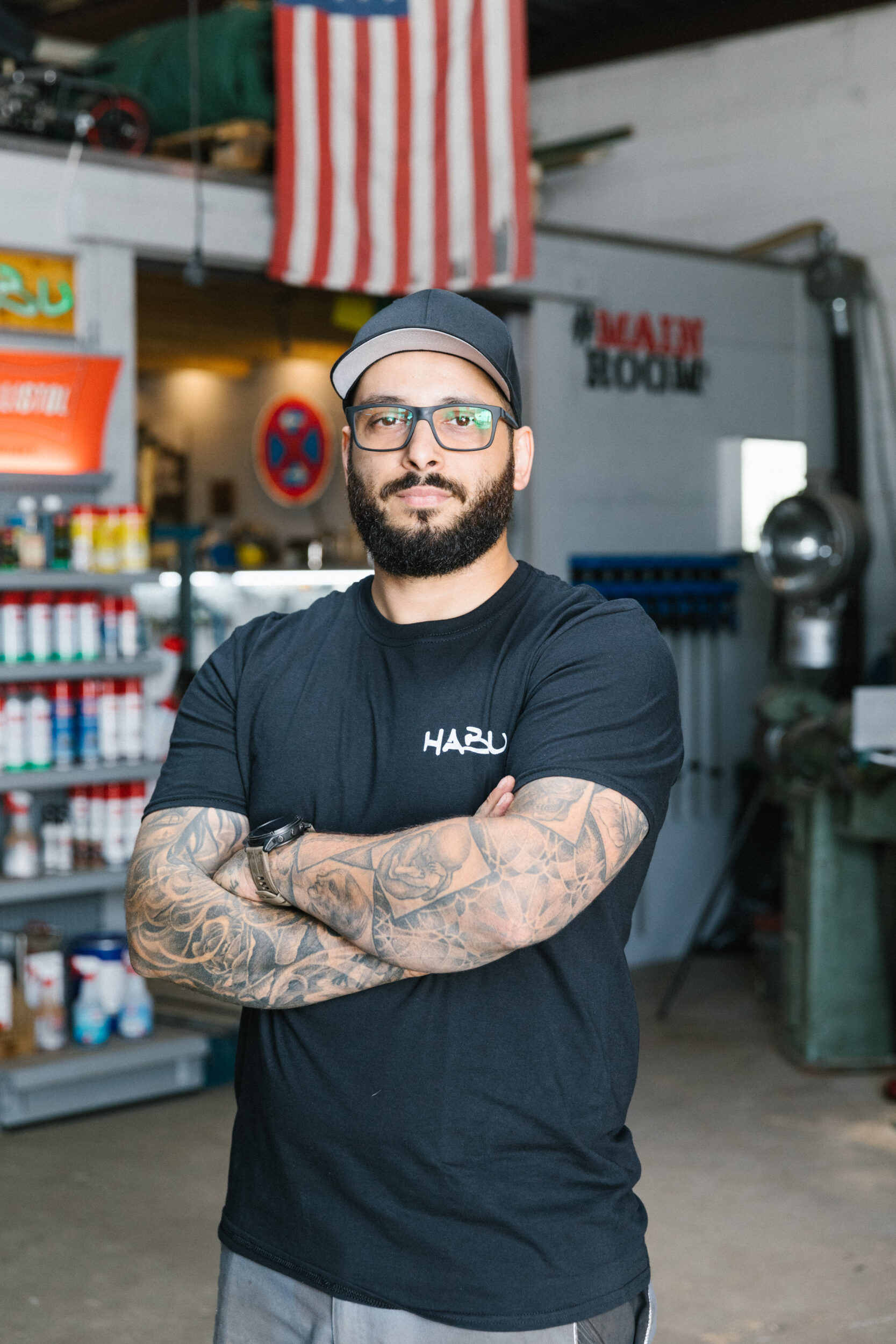 allspraypainted: Has the connection and exchange with your online community changed your way of working?
HABU: Yes totally! Because here, unlike on television, there is direct contact with the audience. Not only have great friendships developed, but there is also a great exchange of know-how, which is extremely useful for me and us all. It helps us progress quickly! The Maker Community is therefore one of the cornerstones on which my work is built!
Watching HABU work so comfortably with all the tools and materials he does is an inspiring experience, to say the least. His self-confidence is enough to make any DIYer, regardless of male or female, want to go out and try whatever it is they want to do. And if happens to be with metal, then our new knowledge of how helpful Montana ACETONE, Metal PRIMER, and CRACKLE Sprays are, could be a benefit in getting the best possible results. Just like all of HABU's projects. We look forward to seeing his skills put to even more good use in the near future.