The local girl with worldly ideas
Vera from Heidelberg
Here at allspraypainted, we like to surround ourselves with inspirational, creative people. And we are happy to say we have an amazing circle of friends and colleagues around us that make it easy to stay inspired. Working with them is a joy and we feel it is important to stay open to all the beautiful things that are happening in our world. After all, ideas are like dipping your finger in a settled water pond. The ripples that form and expand soon effect all the water around it.
Heidelberg in Germany, is like that in many ways. Not only is it the head quarters of MontanaCans, it also has a romantic river called the Neckar running through it, lots of traditional and gorgeous architecture. And like the pond analogy, Heidelberg is full of creators and makers of every type. All inspiring and helping each other on their creative paths. Our friend and colleague Vera from www.nicestthings.com just so happens to be exactly one of these people.
A photographer, DIY specialist, Blogger and all round cool chick. What ever her DIY fingers touch, turns to gold. She has an exceptional taste for all things unique, modern and timeless. Her works are often minimal yet classic, using soft tones to create a mood that is warm and comforting.
We asked ourselves, how does Vera tick? And what helps her stay creative? Being the girl next door, we gave her a call and before we knew it, we were chatting over a coffee and a piece of Lebkuchen. This is what she had to say:
For how long have you been blogging?
 I have been blogging for nine years now, since February 2011.
What, in your opinion, is the most amazing aspect about being an influencer?
The great thing about being a blogger is that you can follow your passions. You actually have to. Blogging is best when you are truly excited about the projects yourself. Readers notice that. So number one on your To-Do list is: Do what you really get your kicks from 🙂 Isn't that amazing?
Working with spray paint, what are the advantages as an interior lover?
Spray paint is my all time favourite when it comes to interior DIY projects.
First, colour will never be a reason not to buy or keep something anymore. You see a beautiful chair at a flea market, but the colour does not match your interior? No problem. Spray it.
Second, you can easily follow trends, seasons and your own whims. This year, you are all about a certain greyish green, next year you prefer a coral tone. Spray paint makes it possible to change, and change and change again. (Maybe you have to sand the object in between, but you get the idea)
Third, it is so versatile concerning the material. You can spray paint almost everything, wood, glass and even metal… All the more with the existing primers. I am just waiting for a textile spray paint 🙂
You have been working with MontanaCans for a few years now. Which one is your favorite GOLD Line Color and why?
The one I used the most is certainly SH9100 White. And then I just love how many subtle shades there are. Combining them is great fun. But if I had to decide on a colour, I would pick G4000 Baby Skin. It's a greyish, grown-up shade of pink which comes very close to the colour I use for my website.
Your style is very clean and minimalistic. Which Effect sprays do you love for interior DIYs?
My personal favourite is the Marble Effect Spray. Not only is it very easy to handle, but it looks super classy and realistic, too. But I also like the Granite Effect Spray a lot. I have sprayed my herb planters in the kitchen with it.
Is there anything advice that you can give to someone wanting to begin with spray paint projects?
Oh yes, because I still forget it myself, sometimes: Spray several thin layers instead of one thick layer. Really, do it. They write it on the can for some reason. I know, I am super impatient myself and want to cover my objects instantly. But then, you get dripping and paint runs all along. So take your time, spray a thin layer, let it dry, then spray the next…
You live in the hometown of MontanaCans. What is the most beautiful thing about Heidelberg?
Of course, the Neckar, the Old Bridge and the Castle are not bad either. But what I personally love the most, the beautiful old buildings from the 1920s. With their pastel and white fronts, lattice windows, wooden floorings and stucco ornaments, they always make me dream. Thanks to the Americans who had the grace not to bomb Heidelberg after WW2, they remained almost completely intact. By the way, the MontanaCans headquarter is located in one of these beautiful houses.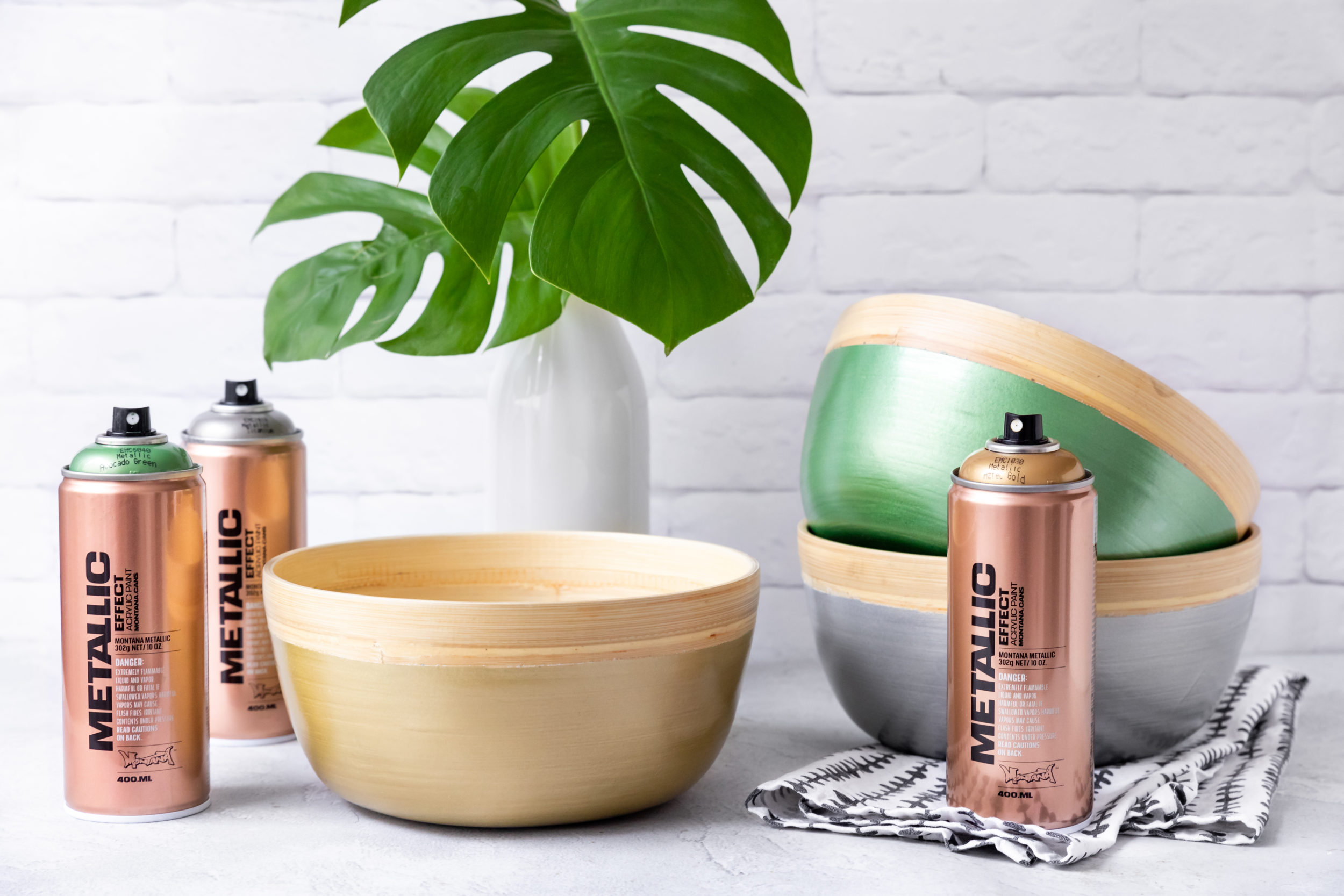 What is your philosophy when starting a new project and how do you get inspired?
When I start a new project, I try not to overthink it and just do, following my intuition. Don't fear failure, this will block you. What can go wrong? It's not surgery, it is just a DIY. The most beautiful projects resulted from spontaneous ideas and a kind of flow during the work. Inspiration can literally be found everywhere. First, there are magazines, Pinterest and other blogs of course. But it can also be the wooden counter of a coffee shop, a morning walk or a talk with your best friend.
Thanks Vera for the nice chat. We are looking forward to more amazing projects with you!