Adding a touch of stone
It's not deniable that we live in a world of speed and convenience. Stone and wood are precious materials, but also expensive. If you can't make it natural, then at least you can make it look natural, with the upside that it won't break the bank. and with the Montana GRANIT Spray, we did it in three easy steps.
Materials Used
Tables with removable tops
Montana GRANIT Spray Light Grey and Grey – but there are four colors to choose from
A sanding block (or variously graded sand paper)
Gloves
Mask
Drop sheet
How it was done
We had two tables that had been kicking around in the garage for quite some time. Yep.. they were made of metal legs and metal tops. But you could choose and type of table you wanted. Or even find a cute used one to upcycle. The secret to keep it simple is finding a table that you can remove the top from. We chose some from Ikea.
As with all our projects, we first cleaned the tops, freeing them of oils, stains and marks. Then we lightly sanded the tops with a fine grade sanding block that didn't leave any scratches. If you are feeling motivated, you could use various sanding grades and work from rough to fine for the best surface. Then with a cup of tea in one hand and the MontanaCans Universal PRIMER shaking in the other, we waited till the mixing balls were moving freely before we turned the can upside down and took the nozzle off to allow the safety ring to fall out. A quick spray away from everything and we were ready to decorate.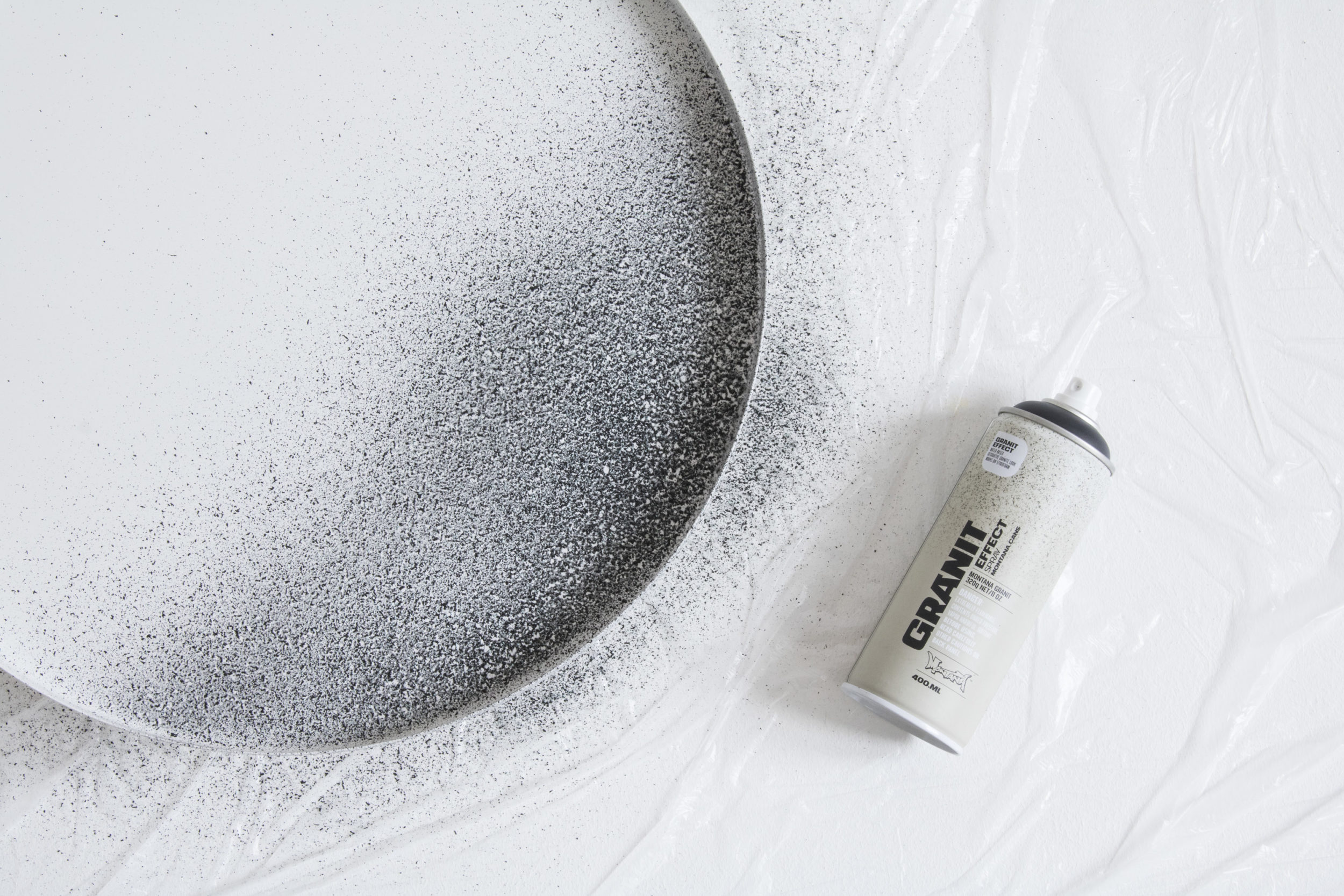 With thin, even strokes we applied the Universal PRIMER which is white in color to the removed tops. We left the legs as they were as they would match our Grey GRANIT Sprays anyway and because they were in good condition. Once dry, we lightly sanded the primed tops again in preparation for the GRANIT Spray. Now the GRANIT Spray doesn't only look good, it's fun to use as well. It has a different nozzle to the other MontanaCans products we used and the thick speckled GRANIT Spray comes gushing out with a little more pizazz.
As it was a Friday, we applied two coats and left the tops to dry over the weekend before re-applying the tops to the table bases again on Monday. They look sensational and hubby is speculating that he will get his stunning tables back. (ahhhh, not likely..)
If you wanted to play it safe, you could also apply a Montana VARNISH to your tables for extra protection. Available in Matte, Semi Gloss and Gloss, you can add another dimension to what is an already totally cool new look.
This project is relatively easy. The actual work time is about 30 minutes. We recommend leaving the PRIMER over night to dry and the GRANIT Spray coats 24-48 hours to dry and cure. It's worth every minute. Good luck and happy crafting!