Now you see them, now you see them glow!
Anyone who has a bike (and rides it), knows that there is a balance between getting from A to B safely, and enjoying the ride at the same time. There is no wonder that bike culture has become so cool and overwhelmingly at the same time. On one hand you have people riding bikes that are worth nearly as much as cars. You have your BMXers, your crusiers, your lady's bikes with floral baskets, your family riders with bike trailers, fixed wheel riders and everything in between. Here is way you can personalise your bike so you and your family can be seen (for safety), and "be seen" at the same time. Glow in the dark wheels! Regardless of what type of bike you have or rider you are, any one can make their bike riding even more fun.
All you need is a few simple things.
A bike with wheels, a can of Montana GOLD Line spray paint in Shock White, a can of Montana NIGHTGLOW, a can of Montana VARNISH (your choice of Gloss, Semi Gloss or Matte finish), a pair of gloves, a mask, sturdy paper or card, a drop sheet, some plastic and masking tape.
First remove your wheels from your bike, taking off the tyres and tubes. Give them a good clean ensuring all dust, oils and dirt is removed. While they are drying, cut four equal semi circles from your paper or card. These will create a cover for the centres of your wheels (the hubs). Using your masking tape, attach two to each wheel. With your plastic, cover the rest of the centres of your wheels. Now you are ready to spray.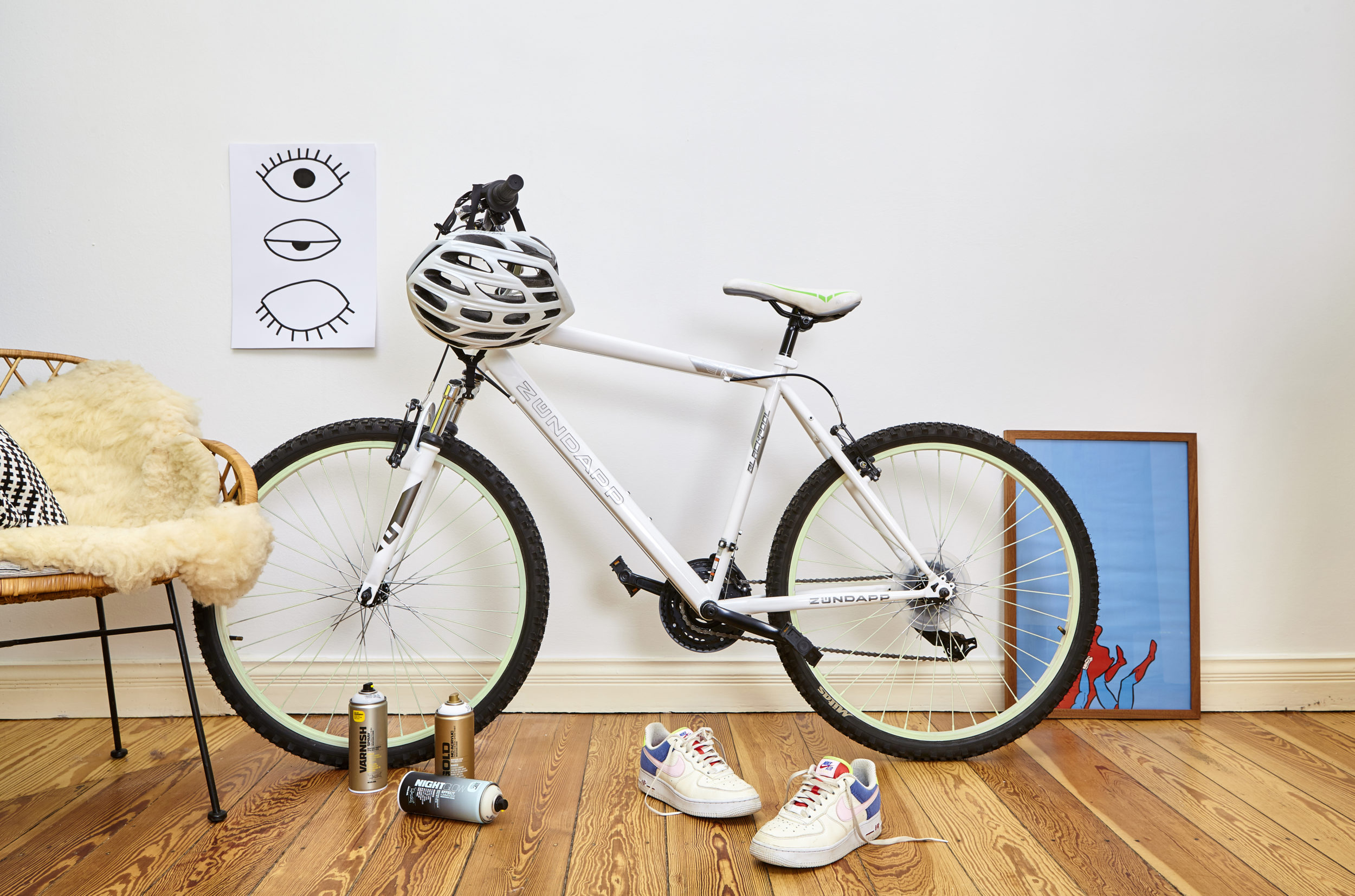 Shake all your cans for 2-3 minutes. Turn them upside down and remove the nozzle allowing the black safety ring to fall out. Remember to put on your gloves and mask before putting down the drop sheet on the floor where you are painting. Replace the caps on the cans and grab your Shock White Montana GOLD can first to spray all the uncovered parts of your wheels. Once dry, grab your shaken Montana NIGHTGLOW can and then spray over the newly painted white areas. Apply in thin, even coats and don't hesitate to re-apply once dry a few times. The more NIGHTGLOW applied, the more the wheels can glow. Allow the wheels to dry over night.  The final touch is one or two coats of Montana VARNISH in the finish of your choice. This will protect your wheels for longevity and durability.
Thats it! You've done it. All you need to do now is ride your bike in daylight or park it somewhere with strong light so the NIGHTGLOW can charge. The NIGHTGLOW will absorb the light as energy and as soon as it is dark emit it as light. As soon as the sun goes down, watch as all eyes will be on you. Enjoy the ride and Happy Crafting!